This Trending Now story features the most-saved laundry room photos uploaded to Houzz in 2022.
There's a lot that designers can do to elevate a small space devoted to mundane chores. For proof — and inspiration — just check out this countdown of the most-saved laundry rooms of 2022. You'll find interesting ideas for stylish details such as cabinet color, wallpaper and tile. But you'll also discover functional features you might not have considered for a laundry room, such as mudroom storage or a craft station.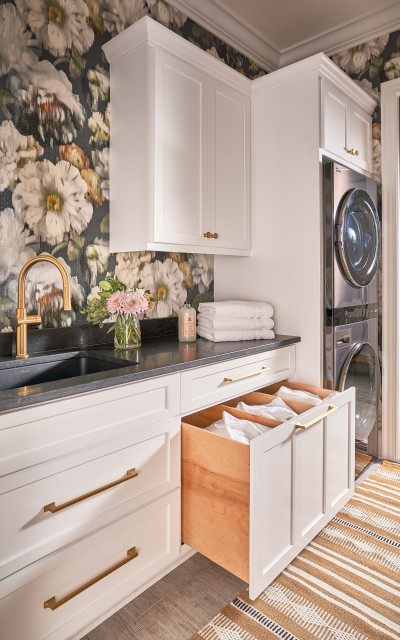 10. Small and Bold
Designers Emma Legg and Sydney Foley of Kindred Interior Studios created a statement while maximizing space in this laundry room in Summerfield, North Carolina. They stacked the washer and dryer to create more cabinet space, which includes a pullout hamper to neatly hold laundry. A bold vinyl floral wallpaper adds drama and is easy to clean.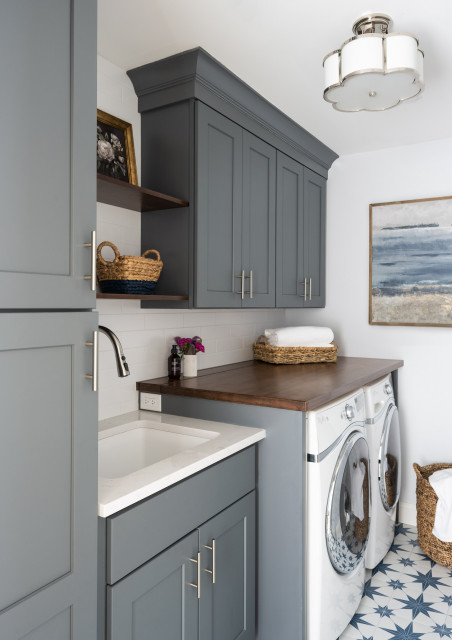 J.P. Hoffman Design Build
9. Old Meets New
J.P. Hoffman Design Buildreimagined this small laundry room in a Boston-area home. The layout didn't change but the team added a sink, custom cabinetry painted a warm gray and a wood counter for folding with a removable panel to access the washer-dryer hookups. Pretty porcelain star-patterned floor tile adds old-world charm.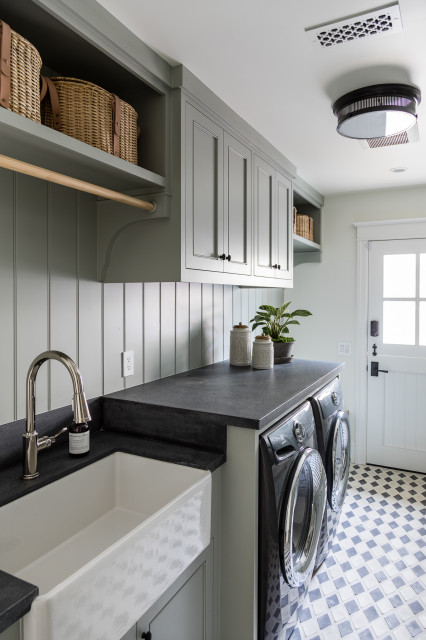 8. Cottage Convenience
The homeowners of this laundry room in Laguna Hills, California, wanted the space to do double duty as a mudroom. Designer Leah Vitrano of Mindy Gayer Design delivered a functional and stylish combo space with a washer and dryer, drying rod, apron-front fireclay sink, and cabinets and cubbies with baskets for storage. Cottage character pops up in the paneled backsplash and the two-tone diamond-patterned terra-cotta tile floor.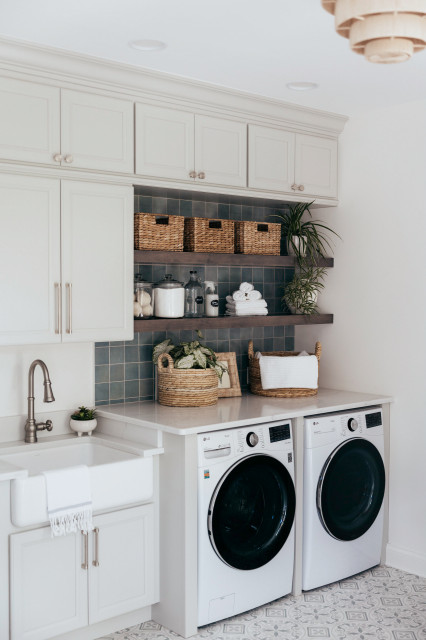 6. Triple Duty
This space needed to accommodate three activities — laundry, work and crafts — so designer Seashal Belldina of Interiors by Seashal stepped in to fulfill the McMurray, Pennsylvania, homeowners' wishes. The result is three zones in one space, with plenty of cabinetry and light and airy finishes, including marble-look quartz countertops, blue zellige wall tile and patterned porcelain floor tile.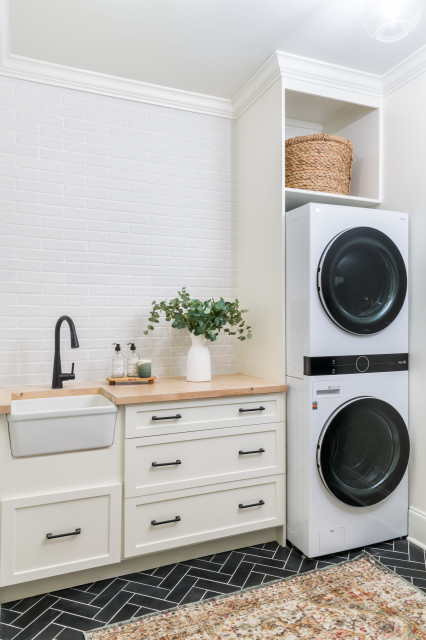 Bradford Custom Homes & Remodeling
5. Space Smarts
This corner of an Atlanta home's laundry created by Bradford Custom Homes & Remodeling includes space-saving solutions like a stacked washer and dryer and a small folding countertop. White rectangular backsplash tile and black tile flooring in a herringbone pattern add stylish contrast.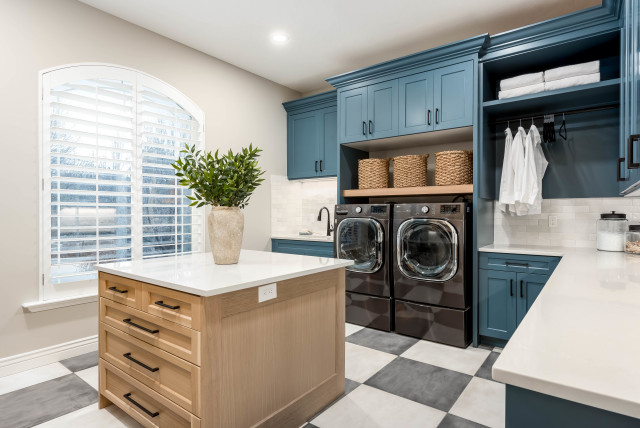 4. Stylish Workhorse
This good-size Salt Lake City laundry room by Rachel Hutchens of Maven Home Interiorshas stylish touches such as blue cabinetry, white tile backsplash and large-format tile floor. It's also highly functional with plenty of counter space, cabinet storage and a drying rod. There's even room for an island with an extra work surface and storage for wrapping paper, craft supples and, on the opposite side, open storage for a rolling laundry cart.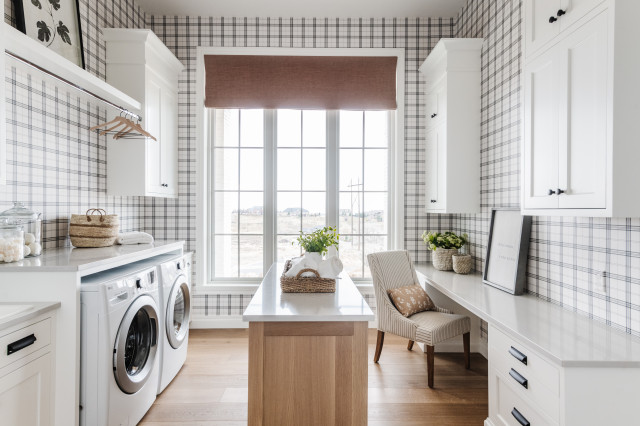 3. Fresh and Functional
This inviting space in Mapleton, Utah, created by Remedy Design Firm satisfies multiple requests of the homeowner. The brightly lit space serves as a laundry and a sewing and craft room.
Plaid wallpaper adds a charming look, and the island on wheels can function as a laundry-folding space or craft space as needed.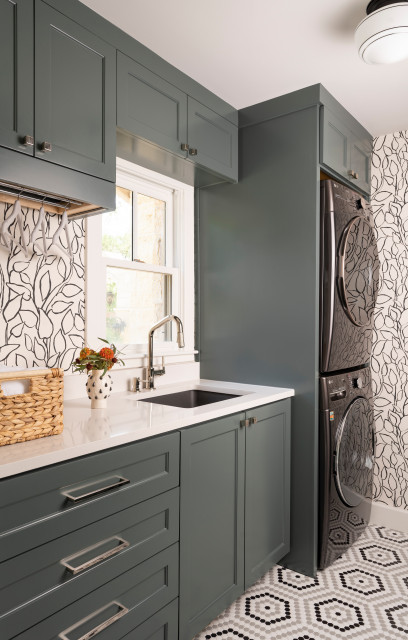 2. Patterned Personality
Contractor Skelly Buildoverhauled this Austin, Texas, laundry room to be more efficient for a family of five. The washer and dryer are stacked to optimize space and are tucked into cabinetry painted a warm gray (Homburg Gray from Sherwin-Williams). A space-saving custom pullout drying rod is hidden beneath an upper cabinet.
Meanwhile, designer Jenifer Houlroyd of Etch Design Groupmade a stylish statement with the leafy wallpaper and hexagonal mosaic floor tile. The space also includes a mudroom and custom dog station.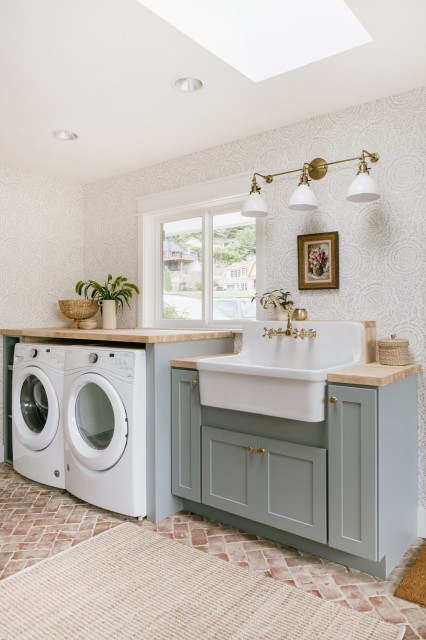 1. Light and Beautiful
The graceful variety of finishes and features in this Edmonds, Washington, laundry helped make this the most-saved laundry room photo of 2022.
Designer Jessica Nelsontransformed what used to be the home's kitchen into an attractive, multifunctional space that serves as a laundry; mudroom; and storage area for crafts, seasonal decor and wrapping paper. A vintage-inspired sink and faucet, folding counter and butcher block countertop are grounded by whitewashed brick floors meant to patina with age. Subtly patterned wallpaper adds more character.